Moonshine Inc. has landed as part of Steam Next Fest with a free demo and dev streams galore! The demo includes around 30 minutes of gameplay and over 10 moonshine recipes to try. It's a surprisingly deep and moreover, accurate, strategic building and crafting game that is committed to authentically simulating the life and craft of the fabled American moonshiner. How you ask? Through the developers collaborating with doctors of both chemistry and business when creating the game's crafting and business management systems.
How do you Play Moonshine Inc?
The game is made up of 3 core systems. Firstly, fermenting and distilling alcohol by digging into the actual chemistry behind moonshine distillation to 'create mind blowing batches of booze for the thirsty masses suffering from sobriety!' The devs have done their research and collaborated with Dr. Andrzej Żywociński from the Institute of Physical Chemistry at the Polish Academy of Sciences to develop the games' fermentation and distilling crafting systems so that those processes are portrayed accurately.
You Might Also be Interested in:
Business Time
Secondly, we have the tycoon mechanics. The overarching goal of Moonshine Inc. is to transform your small time brewing operation into a serious business empire by brewing the product, managing your employees and delivery network and securing sales. The business management systems were created in collaboration with Dr. Marcin Wardaszko who heads up Kozminski University's Department of Quantitative Methods and Applications of Computer Science who has published multiple academic papers on complexity in game design, experiential learning and business simulations.
Con the Cops
Thirdly and finally we have the Red Flag Police System that intelligently controls the behavior of the local police and federal agents who are constantly closing the net around your operation. The last press release advises players to 'keep your head down and the booze brewing as you buy, expand, and upgrade your illegal, hidden bases' across what looks like a pretty huge map. Expect to be harassed by corrupt sheriffs, a particular ATF agent, and even a corrupt governor, but with the help of some quirky family members you'll have a fighting chance against both law enforcement and the odds of building a successful business.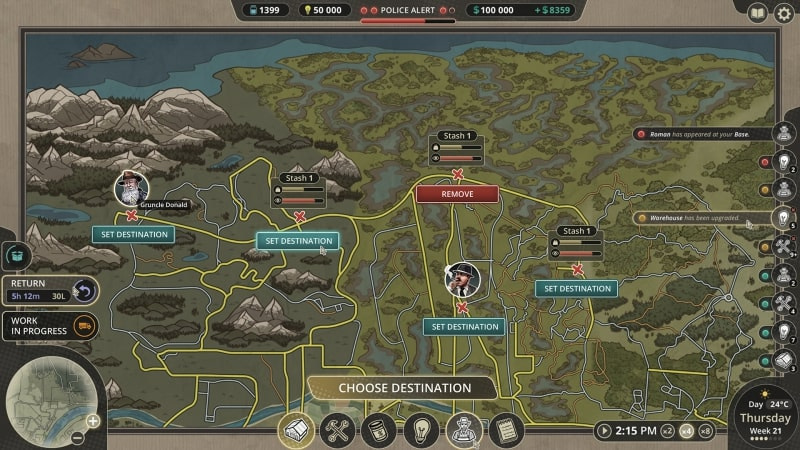 Moonshine Inc's demo is available to download on Steam now via the link below, where the devs are also regularly streaming.